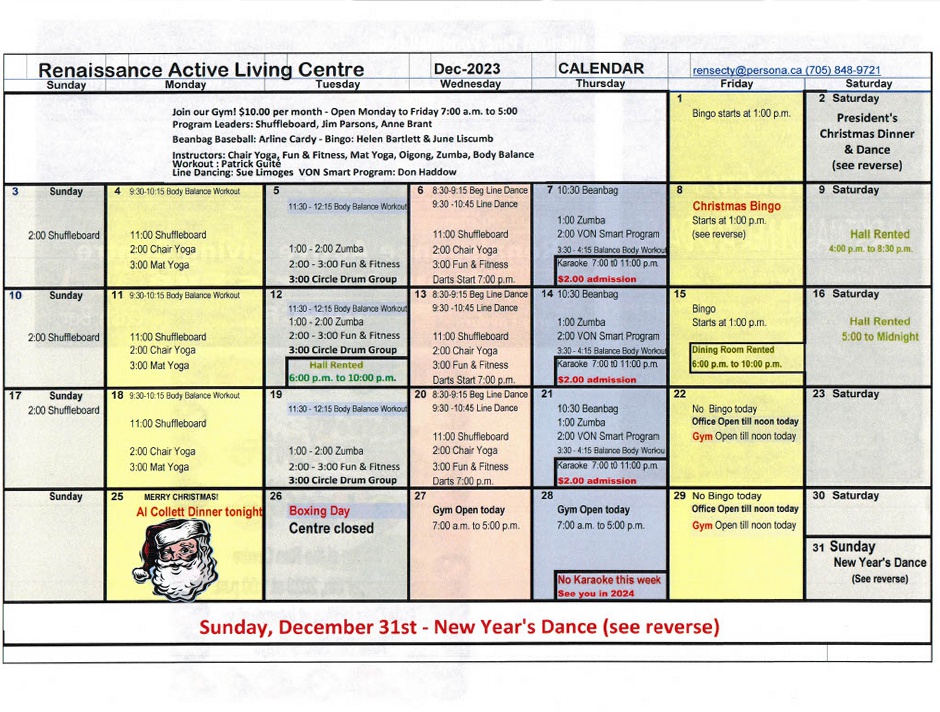 Renaissance Active Living Centre

Bulletins Continued

ATTENTION PROGRAM PARTICIPANTS

In order to protect our Participants, Program Leaders and staff, from the threat
of COVID-19, the following Policy 2020-03 will take effect on:


August 24
th,
2020


Payment for programs and exercise classes will only be accepted with pre-purchased tickets
available for sale in the office. If Program Leaders for card games wish to sell tickets at their games, arrangements can be made to accommodate them.


Tickets for Members will be sold in books of 5 for $10.00 or in books of 10 for $20.00
Tickets for Non-Members will be sold in books of 5 for $20.00
Individual tickets will not be sold
so please do not forget to bring your ticket for your class/program.

To limit touch contact, pens and pencils will be supplied but we ask, if possible, to fill in the information needed on your ticket before you come to your activity.

Tickets are to be handed to the Program Leader, or their helper, once you enter the hall or games room. The bowl for cash payment and the sign-in sheets have been removed.

Self-distancing footprints have been placed in the hall in order to follow the Algoma Health Unit regulations. Please stay within your allowed space. If these guidelines are followed, masks may be removed while attending Exercise Classes such as Tai-Chi, Chair Yoga, Mat Yoga, Line Dancing, Young at Heart Fitness, and Qigong.

Pease wear your mask until you are in your allowed space in the hall and place it back on immediately after your class ends
before
walking away from your allowed space.

Class sizes are limited to 30 participants. If there are no footprint markings on the floor available, you will not be able to attend that class.

The seating area in the hallway is limited to 20 people.
If all seats are full
you will have to wait outside for your class to start. You cannot stand around as the room size determines the amount of people allowed in each room. For this reason, we ask that you arrive
no earlier than 10 minutes before the start of the class.


We ask all participants to enter the class through the hall's main doors but exit through the door in the dining area so as to limit close contact.


We realize that this new way of doing things will take some adjusting. If we want to remain open and be able to offer these great programs, everyone must be willing to do their part to remain healthy and COVID-19 free.